Avoiding Fall Driving Hazards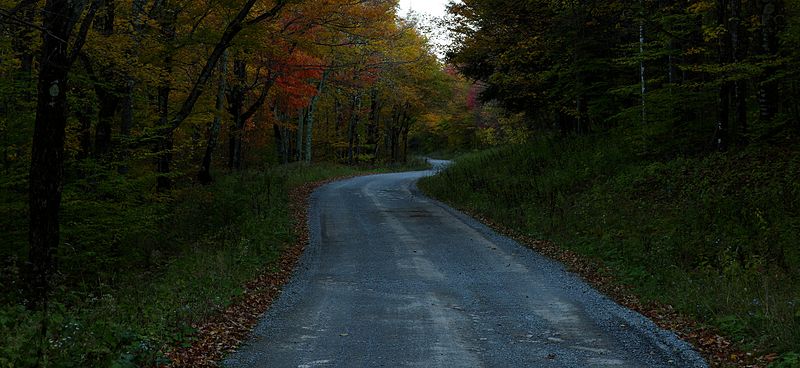 We love when the air gets crisp and the leaves start to turn, but as drivers, we have to remember to stay cautious on the roads. Fall brings all kinds of new driving hazards that we didn't have to deal with for months, so here are some friendly reminders of what to watch for when you get behind the wheel this season.
Watch for falling leaves
There's no denying that fall foliage is one of our favourite things about Canadian autumns, but when they fall, that love starts to fade. As they litter the streets, they make roads just a little more dangerous for the unsuspecting driver. Streets get slippery on those wet leaves, causing your tires to lose traction — they can be just as dangerous as ice when leaves are wet. They also start hiding traffic lines, pot holes and other road hazards. Leaves are like water, they tend to accumulate in low places, so be aware when you see a colourful collection in the road, you might be in for a not-so-pleasant surprirse.

Fall weather isn't all crisp and sunny days
Autumn winds can blow more than just leaves around. Fall rain storms are hard and sudden. In the early part of the season, storms are much worse than later. A summer's worth of buildup makes for slick roads in a downpour. But that doesn't mean later autumn rains are safe — leaves + rain = a slippery situation.
Visibility is also an ongoing issue throughout fall. Not only do hard downpours impede vision, but fall tends to bring fog. Statisitically, fog is the number one most dangerous driving condition. Your visibility is low and your perception of distance suffers. Make sure to slow down, turn on your headlights (low beam) or fog lights and use extreme caution. If you are completely uncomfortable, get off the road until you feel safe again.

It's colder than you think
When the sun is out, the autumn air feels great. Throw on a sweater or a light jacket and you're good to go. But don't forget that at night, the temperature tends to drop lower than you think. That means when you start your car in the morning, you're dealing with frost and possible icy patches. Use caution when driving over bridges (they freeze first), shaded streets (no sun means a longer melt time) or anywhere else the dew and frost may cause some slip you aren't expecting. And just because you can't see it, doesn't mean it's not there — it's called black ice for a reason!
Animal crossing
Fall is migrating and mating season for deer which means an increase in deer activity close to roads. If you are driving through rural areas, or even suburban now that sprawl is encrouching on areas that were previously animal habitats, use caution. Watch for darting deer or animals in the road when you come around a bend in the road, especially when driving at night.

Stay safe on the roads
Knowing what fall driving hazards to look for will help keep you safe, but channel your inner boy scout and "Be Prepared." Here is a list of tips to keep you safe this season:
Watch your speed
Keep your distance
Stick with low beams
Clear frost away from your windows
Approach traffic lights carefully
Watch for wildlife, especially in the early morning and evening hours

Want to know how a Honda and its features can keep you safe and comfortable this fall and year-round? Click below to book your Dynamic Test Drive today!