Getting to Know your Honda: ECO Assist™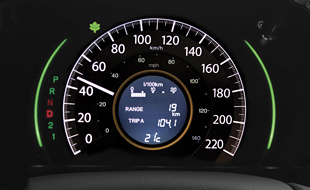 At Honda, we pride ourselves for our outstanding fuel economy and with the price of gas lately, we know it's important to you. With Honda's Honda's ECO Assist™, not only can you enhance your fuel efficiency, but you can develop driving habits that contribute to your fuel economy with the system's real-time coaching and feedback.

What does Honda's ECO Assist™ do?
When used properly, Eco Assist™ will effectively and efficiently improve your fuel economy. When the system is engaged, you will see a halo that informs you of how you are using your fuel. The longer and brighter the green, the more money you are saving.
How does Honda's ECO Assist™ work?
Eco Assist™ is composed of two basic functions:
A sophisticated feedback system that teaches you to drive more efficiently
An ECON button that helps aid in optimizing your vehicle's fuel efficiency if used in conjunction with responsibly efficient driving practices
Honda's ECO Assist™ technology can help drivers develop driving habits that enhance fuel efficiency by observing the speedometer background's response to driving practices. Fuel-saving behaviors like smooth acceleration and braking make the meter glow green. Less fuel-efficient driving habits will cause the meter glow blue-green, while aggressive starts and stops that consume extra fuel cause the meter to glow blue.
In addition to the ECO Assist™ technology, drivers can also engage the green, dash-mounted "ECON" button to further optimize control of the transmission, engine and other powertrain elements to help conserve additional fuel.