What Makes the 2018 Honda Fit Magic?

The 2018 Honda Fit may be known for being small, but it is deceptive in the space it offers inside. Thanks to what Honda refers to as the 60/40 Split 2nd-Row Magic Seat, the 2018 Honda Fit offers an impressive amount of passenger room and rear legroom, and four separate seating modes. Each mode offers some extra cargo space – so not having enough room in your vehicle is almost never a problem.

Tall Mode
The tall mode is perfect for transporting goods that stand too tall to actually sit on the rear seats. Simply fold up the 60/40 Split 2nd-Row Magic Seat and the bottom of the seats will fold up to sit flush against the seat backs. Once those have swung upwards, you'll have plenty of room to fit any cargo that needs to stand upright.

Utility Mode
When the Magic Seats are in utility mode the second row of seats fold down completely, offering a best-in-class cargo area. Don't worry about packing light on your next trip again – with the Honda Fit, you'll definitely have the room to bring everything. In utility mode, the Fit boasts an impressive 1,492 litres of cargo space.

Long Mode
Whether you're moving furniture or you're hauling a surfboard or kayak to the beach, the long mode in the Honda FIt makes it easy. Just fold down the right side of the second row rear seats and fold down the front passenger seat, and you've got lots of space for longer items. You also still have the space behind the left two seats in the hatchback. Bring everything you need in one trip without feeling cramped.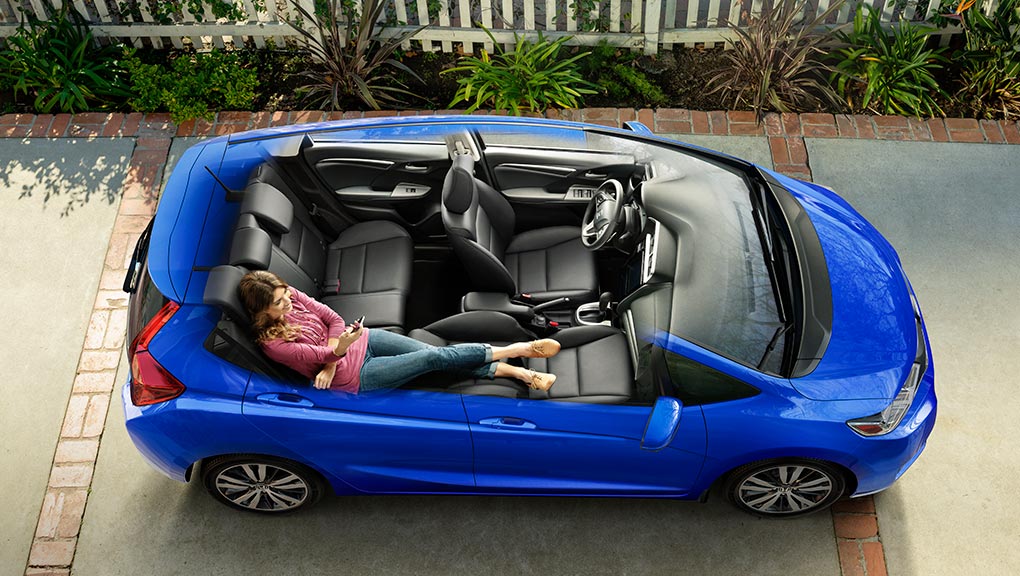 Refresh Mode
We know when you look at the Honda Fit you probably don't think it looks like a vehicle you can lounge in – but, that would be wrong. In refresh mode, you can remove the head restraints on the front seat and fold it back completely to create a long, comfortable relaxation space wherever you are. The perfect vehicle for a summer night at the drive-in? We definitely think so.
If you're interested in what other amazing features are available on the 2018 Honda Fit, come to Henley Honda today. One of our Sales Consultants will be happy to help you find your way into the Honda Fit.